SAMS Science Teacher Mrs. Lauer explains to her class how to conduct a celery water transport experiment.
Read More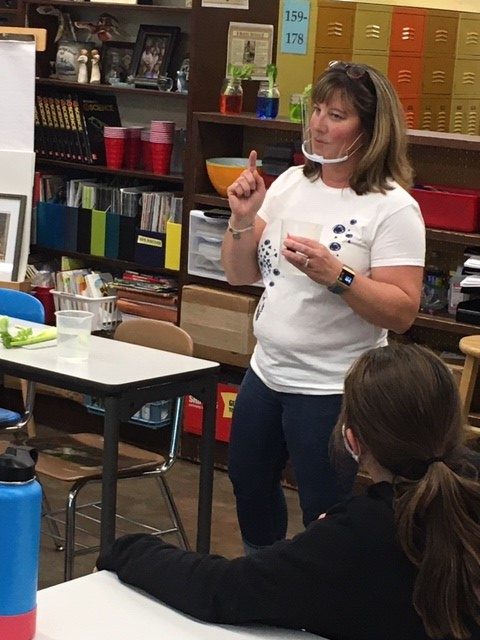 For questions on:
Attendance call Mrs. Reggia @ 570-372-2256
Guidance call Mrs. Carnahan @ 570-372-2253
MS Building call Mrs. Underkoffler @ 570-372-2254
Earn Money for the Middle School through the Weis4school Program
Weis Flyer

INFORMATION FOR DISTANCE LEARNERS
Distance learners must sign-in through Sapphire by 9:30 a.m. each morning for attendance. This does not mean that all work must be completed immediately at 9:30 a.m., but it allows the office staff to mark your distance learner as present for the day. Students should be checking their email on a daily basis for information from teachers. Teachers will all be using Google Classroom as a learning platform for students. Distance learners will be graded with the same rigor and on the same scale as in-person learners. Remember that both distance and in-person learners will be receiving the same educational content.
Students should email their teachers if they have questions about activities.
Parents who do not have reliable internet access should contact the Middle School main office.
Important: A Message from the SAMS Guidance Counselors
Click Here for Access to Local Mental Health Resources
SAMS students can check out their Super Seals account by clicking on the following link, going to the correct grade level tab at the bottom, and finding their student account #  Click this link:  Super Seals Student Accounts
Latest Middle School News
SAMS Science Teacher Mrs. Lauer explains to her class how to conduct a celery water transport experiment.
SAMS students enjoy learning about how to play the drums as part of music class.
Middle School Band Director Amy Kenny directs her students during a socially distanced band rehearsal on a beautiful weekday.
Click HERE for Distance Learning information.
Below you will find multiple topics regarding Google Classroom.  Each link provides an overview video to support students and families.  If you are running into an issue that is not located below, please first contact your child's homeroom teacher.  We Read More …
Visit this link to meet your teachers for the 2020-2021 school year! Your teachers are listed in alphabetical order; teachers have posted short videos to help you get to know them and visualize their classrooms. Enjoy!
Note: All students are strongly encouraged to bring refillable water bottles with them to class for the 2020-2021 school year. Students will not be using water fountains this year; instead, to facilitate social distancing, they will refill their water bottles Read More …
Posted in
Middle (6-8)
Comments Off

on Middle School Suggested Student Supplies List, 2020-2021
Selinsgrove Area School District's Plan for Reopening Page